Roll over image to zoom in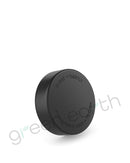 50/400
White - GJCR1T6-WCAP
|
Black - GJCR1T6-BCAP

SPECIFICATIONS

| | |
| --- | --- |
| Cap Size (mm) | 50mm |
| Cap Threading | 400 |
| Child Resistant | Yes |
| Color | White |
| Cap Style | Smooth |
| Cap Shape | Flat |
| Cap Finish | Matte |
| Liner Material | Foam |
| Material | Polypropylene (PP) Plastic |
DIMENSIONS
| | |
| --- | --- |
| Cap Height (mm) | 15.35mm |
| Cap Diameter (mm) | 57mm |
| Cap Thickness (mm) | 2.1mm |
| Max Label Size Diameter (mm) | 51mm |
Description
Packaging refers to wrapping, enclosing, or bottling products to protect them from external factors that can damage them during storage or transportation. Apart from making the items marketable, it also helps in product identification, description, and promotion. These factors have made packaging an essential element in business today.
Efficient packaging should provide convenience when handling products. Since e-commerce has opened opportunities for businesses beyond their physical locations, packaging has become very helpful when transporting items.
It ensures that products remain intact. Hence, it has helped eliminate unnecessary costs associated with damaged goods. Businesses and customers can be sure of receiving their items in good shape.
Today, sustainability has become a vital topic in almost every industry. Hence, businesses and retailers are making significant steps towards adopting recyclable packaging. These bold steps set the pace for companies that haven't embraced sustainability to join the bandwagon.
Plastic, in particular, has become a popular packaging item. It's a factor that has made companies prefer it over other storage products.
Our company focuses on providing quality packaging items to businesses. You can find a recyclable smooth matte 50/400 cap with text & liner, suitable for companies in various fields. All the products listed in our wholesale store are duly certified and authorized by the Consumer Product Safety Commission (CPSC). This ensures that every business purchasing our products remain compliant. Buying products from our online wholesale store can increase trust and assurance in your customers.
Child Resistant Smooth Matte 50 400 Cap With Text & Liner
Child-resistant packaging refers to a particular way of storing items that reduce the risk of accidental ingestion among children. There are various ways manufacturers and companies achieve this type of safe packaging. One standard method is using jar lids that have been specifically designed to secure products accordingly.
Essentially, the child-resistant packaging rules are part of the Poison Prevention Packaging Act (PPPA). Our child-proof smooth matte 50/400 cap with text & liner is designed to be significantly challenging for young children to open yet easy for adults to open and use.
At Geen Earth, we offer various packaging products with unique designs and aesthetically appealing styles. Our CR smooth matte 50/400 cap with text & liner can be used in multiple industries, including the health care, beauty, and personal care sectors.
The jar lids on our inventory have liners to improve barrier protection besides providing adequate sealing for the stored products. Besides offering protection, the seals also act as tamper-evident materials. Hence, using them can help increase customers' trust in your products.
Smooth Matte Black 50/400 Cap With Text & Liner
Our packaging items, including the smooth matte 50/400 cap with text & liner, have numerous qualities that make them indispensable items. Hence, they are helpful to both businesses and consumers. Since all our lids and wholesale jars adhere to the stipulated safety guidelines, they ensure that companies avoid the risk of purchasing lackluster items. Similarly, they also guarantee safety at home.
The black smooth matte plastic 50/400 cap with text & liner on our inventory is Bisphenol-A free (BPA free). The lids have a cap height of 15.35mm, while their diameter measures 57mm. This ensures they tightly fit the container, thus offering optimum protection.
You can purchase the smooth matte 50/400 lid with text & liner per unit or case. If you're unsure of the product, you can order a sample. It will give you a good understanding of the products before committing to a bulk order.
Smooth Matte White 50/400 Cap With Text & Liner
Buying your products at a much lower price is always beneficial in business. Apart from helping you translate the low prices to your customers, you also gain a good profit margin. Our wholesale smooth matte 50/400 cap with text & liner is available to all companies regardless of their size.
Another benefit of buying your items wholesale is accessing a range of products. Apart from buying smooth matte 50/400 caps with text & liner in bulk, you can also get other packaging items such as jars that are compatible. Considering that our inventory has innumerable items, you will spend less time shopping for your products.
The wholesale sector has leveled the playing field for businesses. This means that startups have an equal chance of competing with established companies. Buying a smooth matte 50/400 jar lid with text & liner wholesale favors new businesses by reducing operational costs. Therefore, it enables them to achieve profitability relatively quicker.
Customization
Although several factors determine effective packaging, the two fundamental considerations are the protective and promotional aspects. Custom packaging plays a crucial role in promoting the products locally and internationally. These days, packaging acts as a silent salesman. They can perform various tasks done by salespeople, including attracting customers, creating an excellent overall impression, and describing the products.
Exceptional packaging practices should integrate marketing concepts. That is why here at Green Earth, we also offer branding and customization. We create custom caps for companies that want their products to stand out from competitors. You would incur a significantly less cost when buying our products and choosing our customization option.
Not only are our 50/400 caps appealing, but they also have ample branding space. They have a maximum label size of 51mm, which is adequate to display logos, text, and other pertinent inscriptions. The next time you're purchasing wholesale smooth matte plastic caps from us, be sure to include custom packaging. It's a step that can catapult your business to the next level.