Roll over image to zoom in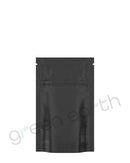 3.6in x 4.5inWhite - DYMYWW1G

SPECIFICATIONS

| | |
| --- | --- |
| Capacity (g) | 1g |
| Closure | Zipper |
| Child Resistant | Yes |
| Tear Notch | Yes |
| Clear Side | No |
| Gusset | Yes |
| Finish | Matte |
| Edge Design | Straight |
DIMENSIONS
| | |
| --- | --- |
| Bag Width (in) | 3.65in |
| Bag Height (in) | 4.54in |
| Inner Width (mm) | 75mm |
| Inner Height (mm) | 50mm |
3.6in x 5.8inBlack - DYMYBB18

SPECIFICATIONS

| | |
| --- | --- |
| Capacity (g) | 3.5g |
| Closure | Zipper |
| Child Resistant | Yes |
| Tear Notch | Yes |
| Clear Side | No |
| Gusset | Yes |
| Finish | Matte |
| Edge Design | Straight |
DIMENSIONS
| | |
| --- | --- |
| Bag Width (in) | 4.02in |
| Bag Height (in) | 7.06in |
| Inner Width (mm) | 86mm |
| Inner Height (mm) | 108mm |
4in x 7inWhite - DYMYBB14

SPECIFICATIONS

| | |
| --- | --- |
| Capacity (g) | 7g |
| Closure | Zipper |
| Child Resistant | Yes |
| Tear Notch | Yes |
| Clear Side | No |
| Gusset | Yes |
| Finish | Matte |
| Edge Design | Straight |
DIMENSIONS
| | |
| --- | --- |
| Bag Width (in) | 4.03in |
| Bag Height (in) | 7.08in |
| Inner Width (mm) | 85mm |
| Inner Height (mm) | 110mm |
6in x 9.8in
Black - DYMYBB1
|
White - DYMYWW1

SPECIFICATIONS

| | |
| --- | --- |
| Capacity (g) | 28g |
| Closure | Zipper |
| Child Resistant | Yes |
| Tear Notch | Yes |
| Clear Side | No |
| Gusset | Yes |
| Finish | Matte |
| Edge Design | Straight |
DIMENSIONS
| | |
| --- | --- |
| Bag Width (in) | 6.04in |
| Bag Height (in) | 9.82in |
| Inner Width (mm) | 135mm |
| Inner Height (mm) | 175mm |
8in x 6in
Black - DYCREBB86
|
White - DYCREWW86

SPECIFICATIONS

| | |
| --- | --- |
| Capacity (g) | 28g |
| Closure | Zipper |
| Child Resistant | Yes |
| Tear Notch | Yes |
| Clear Side | No |
| Gusset | Yes |
| Finish | Matte |
| Edge Design | Straight |
DIMENSIONS
| | |
| --- | --- |
| Bag Width (in) | 7.96in |
| Bag Height (in) | 6in |
| Inner Width (mm) | 186mm |
| Inner Height (mm) | 72mm |
12in x 9in
Black - DYCREBB129
|
White - DYCREWW129

SPECIFICATIONS

| | |
| --- | --- |
| Capacity (g) | 56g |
| Closure | Zipper |
| Child Resistant | Yes |
| Tear Notch | Yes |
| Clear Side | No |
| Gusset | Yes |
| Finish | Matte |
| Edge Design | Straight |
DIMENSIONS
| | |
| --- | --- |
| Bag Width (in) | 11.94in |
| Bag Height (in) | 9.03in |
| Inner Width (mm) | 280mm |
| Inner Height (mm) | 135mm |
Description
Nowadays, numerous packaging items are available in the market. Among the plethora of products are Dymapak mylar bags. This type of packaging is very resourceful, enabling them to be used in various industries. They have excellent barrier qualities, providing adequate protection for the stored products.
Dymapak mylar bags are lightweight, making them cost-effective when transporting in bulk. This ultimately translates to low transportation costs, allowing you to save money that can be reinvested into the business. Considering that our mylar bags come in different sizes, business owners can package different quantities of their products.
The rate of environmental pollution has skyrocketed Over the past few decades. One of the ways to combat environmental degradation and climate change is the adoption of reusable packaging. Our goal is to support sustainability, especially in the corporate sector. Thus, all the products available in our online wholesale stores are eco-friendly.
Reusable Dymapak mylar bags are exceptional packaging products that are safe for the environment. Customers can use them multiple times before discarding them. Our certified Dymapak mylar bags have been approved by the Consumer Product Safety Commission (CPSC) and meet the ASTM safety standards.
Child Resistant Dymapak Mylar Bags
Consumer safety is an essential consideration in the packaging industry. It is a factor that has necessitated the adoption of child-resistant packaging in the sector. Purchasing child-proof Dymapak mylar bags from our store will ensure that your business stays compliant.
Another brilliant attribute of our CR Dymapak mylar bags is their unique tamper-evident features. Your clients will confidently purchase your products when using our mylar bags because they are adequately sealed and protected.
Tamper Evident Dymapak Mylar Bags
Numerous sectors find our tamper-proof Dymapak mylar bags helpful. The food sector is a brilliant example of such an industry. Packaging food items has always been a challenge for many businesses. Our tamper-evident packaging is ideal for storing food products. Additionally, the packagings are smell proof, which helps conceal the scent of the stored items.
Purchasing wholesale Dymapak mylar bags is an excellent way of ensuring that your business remains profitable. Not only are the tamper-evident packagings great for quality control, but they also promote product safety.
3.5 Gram Dymapak Mylar Bags
All the Dymapak flexible pouches available on our site are very affordable. The low prices ensure that every business can purchase quality eco-friendly products, regardless of their size. Since our products are top quality, you can be sure of getting an incredible return on your investment when you purchase the 3.5 gram bulk Dymapak mylar bags.
The inner width of the 3.5 gram mylar bag measures 86 mm, while its inner height is 108mm. You can purchase the mylar bags for as low as $0.138 per unit or $138 per case, which is a relatively low price compared to other wholesale stores.
Quarter oz Dymapak Mylar Bags
The quarter Dymapak retort pouch is relatively small packaging, with a capacity of 7 grams. They are ideal for storing small items such as medical products. The mylar bags have a height of 7.08 inches and a width of 4.03 inches.
The mylar bags have a pull-to-open zipper that is relatively easy to operate while remaining safe enough to prevent young children from opening and accessing the content. The mylar bags can easily be branded to help promote your business.
Quarter oz Matte Mylar Bags With Windows
Although opaque mylar bags are great at preserving stored items, the Dymapak stand-up pouch bags with windows have unique advantages. These mylar bags allow customers to see the products that have been packaged. It's a factor that plays a massive role in influencing the customers' decision-making.
Buying Dymapak stand-up smell-proof bags with widows can help to drive the sales of your business. It's because buyers would spend less time contemplating buying your product before purchasing them.
1 oz Dymapak Mylar Bags
The 1 oz Dymapak stand-up barrier pouches have a capacity of 28 grams. They use a zipper closure and have a straight edge finish. Still, what makes these packaging items stand out is their matte-modern aesthetic. The finishings give the child-resistant mylar bags a sleek and elegant look that easily attracts customers.
Using matte Dymapak retort stand-up pouches can be a great way to differentiate and make your products stand out in the market. Since most products look the same, your matte mylar bags would be unique.
2 oz Dymapak Mylar Bags
Nowadays, customers are becoming more aware and conscious of pollution. Hence, they prefer to use products that promote the safety of the environment. The Dymapak stand-up mylar pouches found in our store are reusable. This allows customers to use the packaging multiple times before discarding them.
When the Dymapak mylar stand-up pouches are well branded, they can continue to advertise your business even after their initial use. It's a feature that can give your business a competitive advantage over other companies.
Black Dymapak Mylar Bags
The black Dymapak mylar bags are among the most popular packaging items. Their opaque nature makes them ideal for storing photosensitive products. This helps to increase the shelf life of the packaged items.
Another advantage of using black mylar bags is their ability to conceal products. Customers will therefore buy your products without having fear or reservation. Purchasing Dymapak mylar bags in bulk can help boost the cash flow of your business, making it grow much faster. Apart from the unique color, the packaging bags are also airtight, which ensures that your products remain fresh for an extended period.
White Dymapak Mylar Bags
White Dymapak stand-up flexible retort pouch is a great color alternative to matte mylar bags. They are equally sleek while still ensuring that companies meet the stipulated regulations in the packaging industry.
Since our products are recyclable, consumers can discard them in recycling bins once they reach their limit. Ensure that the bin contains the recycling logo with the number 7. The items would then be picked up and taken to recycling plants, where they would be broken down and used with other materials to make new items.
Customization
Branding is an essential element in business. Considering that new companies are formulated every day, owners have to find ways to make their companies stand out. Branding offers a simple yet effective way of advertising your company.
Green Earth allows businesses to purchase custom mylar bags. Our products have ample label spaces, making them suitable for custom packaging. Purchasing custom mylar bags wholesale can help you attract and retain new customers.