Roll over image to zoom in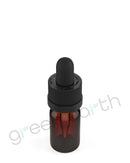 5mL
Clear - GDCRC5
|
Amber - GDCRA5
|
Blue - GDCRB5

SPECIFICATIONS

| | |
| --- | --- |
| Volume (mL) | 10mL |
| Child Resistant | Yes |
| Dropper Graduated | No |
| Opaque | No |
| Color | Clear, Amber, Blue |
DIMENSIONS
| | |
| --- | --- |
| Total Height / Lid Closed (mm) | 82mm |
| Body Diameter - Outside (mm) | 25mm |
| Cap Diameter - Top (mm) | 24.85mm |
| Cap Size (mm) | 18mm |
| Max Label Size (mm) w x h | 80mm x 30mm |
10mL
Clear - GDCRC10
|
Amber - GDCRA10
|
Blue - GDCRB10

SPECIFICATIONS

| | |
| --- | --- |
| Volume (mL) | 10mL |
| Child Resistant | Yes |
| Dropper Graduated | No |
| Opaque | No |
| Color | Clear, Amber, Blue |
DIMENSIONS
| | |
| --- | --- |
| Total Height / Lid Closed (mm) | 82mm |
| Body Diameter - Outside (mm) | 25mm |
| Cap Diameter - Top (mm) | 24.85mm |
| Cap Size (mm) | 18mm |
| Max Label Size (mm) w x h | 80mm x 30mm |
15mL
Clear - GDCRC15
|
Amber - GDCRA15
|
Blue - GDCRB15

SPECIFICATIONS

| | |
| --- | --- |
| Volume (mL) | 15mL |
| Child Resistant | Yes |
| Dropper Graduated | No |
| Opaque | No |
| Color | Clear, Amber, Blue |
DIMENSIONS
| | |
| --- | --- |
| Total Height / Lid Closed (mm) | 87mm |
| Body Diameter - Outside (mm) | 28.5mm |
| Cap Diameter - Top (mm) | 20.55mm |
| Cap Size (mm) | 18mm |
| Max Label Size (mm) w x h | 90mm x 35mm |
30mL
Clear - GDCRC30
|
Amber - GDCRA30
|
Blue - GDCRB30

SPECIFICATIONS

| | |
| --- | --- |
| Volume (mL) | 30mL |
| Child Resistant | Yes |
| Dropper Graduated | No |
| Opaque | No |
| Color | Clear, Amber, Blue |
DIMENSIONS
| | |
| --- | --- |
| Total Height / Lid Closed (mm) | 102.8mm |
| Body Diameter - Outside (mm) | 32.75mm |
| Cap Diameter - Top (mm) | 24.85mm |
| Cap Size (mm) | 18mm |
| Max Label Size (mm) w x h | 105mm x 45mm |
Description
Join efforts to reduce plastic waste pollution in the environment by using sustainable packaging alternatives like glass dropper bottles. Multiple companies throughout different industries highly regard clear glass dropper bottles for their reliable durability.
Both the blue glass dropper bottles and amber glass dropper bottles are also popular, and all three of these dropper bottles are top-notch products for an environmentally-responsible company.
The recyclable glass dropper bottles are one of the different sustainable wholesale bottles Green Earth offers. Glass is one of the best materials for recyclable packaging products because you can recycle it infinitely without losing its purity or quality. Empty tincture bottles with black ribbed caps can be gathered with other glass bottles and disposed of at many different recycling centers.
Consumer safety is a priority, so these glass dropper bottles come equipped with child-resistant caps. Child-resistant certified glass dropper bottles are compliant with different packaging regulations to help your company ensure its products can arrive at other locations. Dropper bottles are an excellent choice for any brand looking for a sustainable way to provide their top-quality product.
Child-Resistant Glass Dropper Bottles
Different companies rely on Boston round dropper bottles with black ribbed caps to store various products for drop application, such as skin serums, medicinal herb concentrates, and food ingredient extracts. These products are highly concentrated and rely on child-resistant packaging to protect young children from opening and accidentally ingesting their contents.
Some packaging suppliers can claim they have child-proof glass dropper bottles but do not have the certification to back up their claim. At Green Earth, our glass dropper bottles are certified as child-resistant under section 16 CFR (Code of Federal Regulations) 1700.20 of the Poison Prevention Packaging Act (PPPA). This section of the PPPA explains the necessary testing procedures for child-resistant packaging.
The PPPA testing procedure is designed for packaging to pass the Consumer Product Safety Commission (CPSC) standards and become CFR certified. These standards are in place to ensure that packaging products such as the CR glass dropper bottles are designed with consumer safety in mind.
Available in four different sizes, these glass dropper bottles are a must-have for any company.
5 ml Glass Dropper Bottles
The 5 ml dropper bottles with black ribbed caps are the smallest in our collection but are as effective as the larger sizes in providing sturdy packaging. This size is available in clear, cobalt blue, or amber.
Clear glass bottles have a simple design and are can display the stored contents. Both blue and amber glass bottles are colored because they offer better protection from external elements.
Blue and amber glass-colored bottles can provide better resistance to UV light. UV light-sensitive products can alter their chemical makeup if exposed to sunlight for extended periods. Colored glass tincture bottles with black ribbed caps ensure the stored goods remain fresh longer.
10 ml Glass Dropper Bottles
The next available size is the 10 ml extract bottles with black ribbed caps. These sturdy glass bottles provide extra storage space. The glass is also impenetrable, protecting a stored product from being contaminated.
Instead of shopping for every glass bottle, we offer wholesale dropper bottles with ribbed caps at reasonable prices. One order contains 120 glass dropper bottles in clear glass, amber, or cobalt blue in any four sizes.
Herbal tincture bottles with black ribbed caps have a dropper that is simple to use. While the dropper is submerged, squeeze the rubber bulb at the top to draw the contents up into the pipette. You can then gently squeeze the bulb to apply a drop at a time.
15 ml Glass Dropper Bottles
One of the best features of glass dropper bottles is their reusability. You can reuse old medicine dropper bottles with black ribbed caps to store homemade serums and essential oil extracts.
Before reusing an old glass dropper bottle, make sure to wash it thoroughly with warm soapy water to sanitize it. Once it is dry, you can reuse the glass dropper bottle.
The 15 ml dropper bottles are made of hygienic glass, non-toxic and perfect for reuse. Reusing dropper bottles with black ribbed caps in bulk is a great way to help the environment save energy.
30 ml Glass Dropper Bottles
The biggest dropper bottle in our collection is 30 ml. Small dropper bottles with black ribbed caps are great on their own, but sometimes a little extra space is necessary.
The glass dropper bottle is a staple in recyclable packaging. Glass is made from abundant materials such as sand and does not harm the natural environment.
The packaging industry is a significant contributor to single-use plastic, which is littered worldwide. These microplastics harm ecosystems and their animal inhabitants.
Through collective efforts, businesses and people can work together to reduce the impact of wasteful packaging. One of the best ways to take that initiative is sustainable glass dropper bottles.
Customization
With customer packaging from Green Earth, you can elevate your glass dropper bottles with black ribbed caps with a one-of-a-kind design that stands out and can catch the attention of any potential customer walking by. The oil dropper bottles with black ribbed caps have plenty of surface space where our custom designs team can place your company's logo or a newly created label instead.
Consumers tend to glance over plain objects, but with custom packaging, you can transform your glass dropper bottles into an eye-catching product everyone will want to pick up and learn more about.
Dirty Thieves
I like the bottle just fine. I would buy more, but not from a thief that stole the money from me to pay the Mexican tariff but didn't pay it so I had to get fucked by the taxman in the ass twice. You lost a customer forever you greedy bastards.